Embracing the natural landscape
In the luxury resort Aquiraz Riviera you will find the Golf Club: Aquiraz Riviera, a 18-hole Championship Course with stunning green oasis winding harmoniously through a beautiful landscape. This is the first and sole golf course in Ceará, Brazil, designed by renowned architect Donald Stell, the golf course has a total length of 90 hectares, consisting of two courses: play a round of golf starting at Ocean Golf Course and return by Dunes Golf Course.

The two courses are very distinctive. The shorter Ocean Course with 3,415 yards and more technical, which requires players precision and strategy and offers a breath-taking view of the sea. The Dunnes Course has a 3,560-yard course with strategic features being extremely challenging.

This golf course provides golfers a singular experience by the challenges it presents. Surrounded by a unique landscape, with the Marambaia Beach, in a combination of sea blue hues and the sand cream color, with the green of the grass. A natural environment which provides golf players an amazing involvement for the practice, and makes the Aquiraz Riviera Golf Course one of the most breath-taking golf courses in Brazil.
For the 3rd time, Dom Pedro Laguna was awarded in the category "Brazil´s Best Golf Hotel" by the World Golf Awards 2018, the most prestigious annual prize in the golf tourism industry.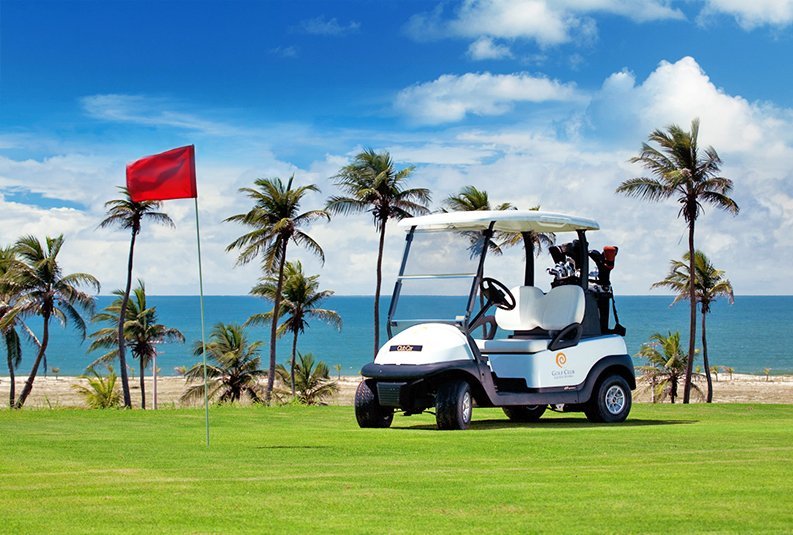 What to expect
- The 18-hole Par 72 Championship course is 6,975 yards long
- Club House
- Restaurant
- Bar
- ProShop from 8am to 17pm
- LCD with golf channels
- Changing rooms with lockers
- Caddie Master
- Golf Pro
- Pull Carts
- Tee time reservations
- Caddies
- Equipment rental
- Golf lessons
- Golf clinics
- Special offers and pricing
- Buggies
- Chipping Green
- 9 Ponds
Golf - Fortaleza - Aquiraz Riviera